It would be an understatement to say that mobile phones have become an extension of ourselves. And no doubt, our lives are tethered to mobile applications.
Most of us use more than a couple of applications every day for a variety of purposes. It could be to connect with our friends and family, for work, to make payments, or even for entertainment.
There are 3.2 billion smartphone users in the world and the growth of mobile applications has been steadily on the rise anchored on the swelling number of smartphone users across the world.
The trend is going to continue in the foreseeable future, which will create immense opportunities for businesses and entrepreneurs who want to work with mobile app development services in India
Key Trends of Mobile App Usage Statistics in 2022
Mobile App Downloads
The trend of mobile app installations has been on the rise year on year without showing any signs of slowing down. In 2019, the total number of mobile app downloads in the world amounts to 204 billion. This registers a steady growth of nearly 6% from the previous year, 2018. The upward trend is only going to pick pace in the future as faster internet technologies such as 5G are being slowly introduced across the world and in India.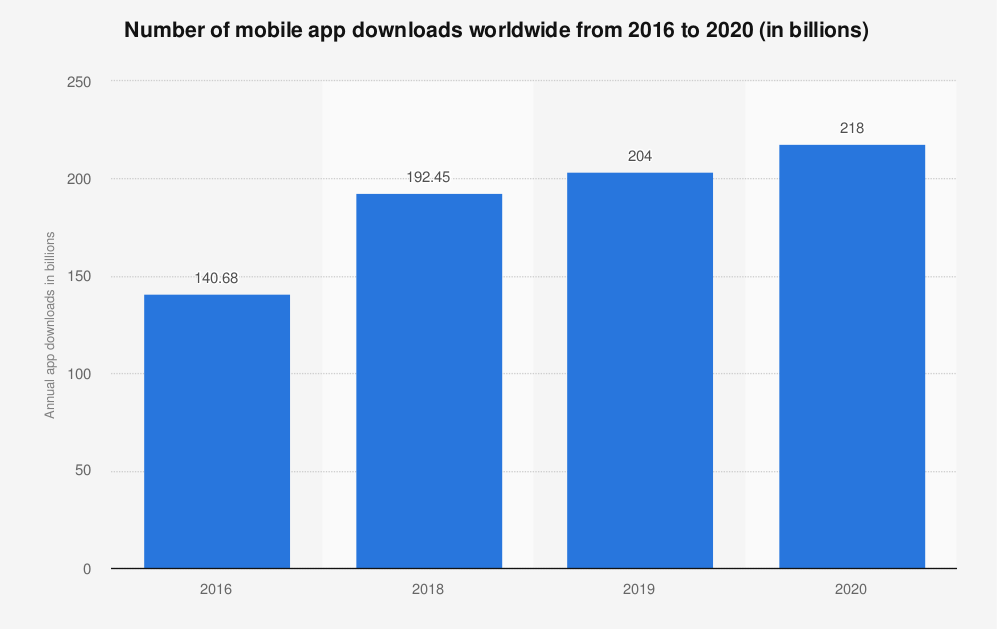 Global App Download Statistics
The combined app downloads from both App Store and Google Play Store came to a staggering 36.5 billion in the third quarter of 2020. In the first quarter of 2020, the number was 33.6 billion and it has seen an upward trend in the second quarter of the year reaching 37.8 billion. In the third quarter though, the figure eased to 36.5. If you analyze the trend, one can observe that the number of app downloads has been steadily increasing from 2015 going over the threshold of 30 billion and 35 billion in 2020 for the first time in history.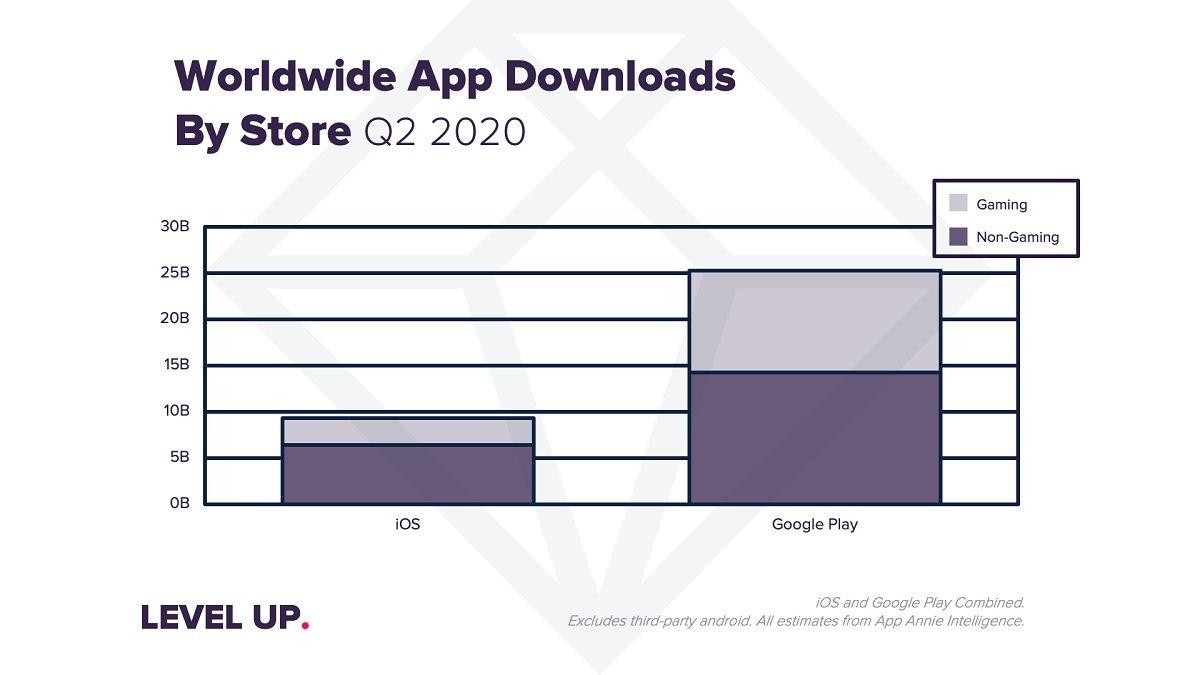 Google Play Vs App Store Downloads
Google Play Store and the App Store are the biggest and most recognizable app stores in the world. It is actually a duopoly. People with devices running on the iOS will download the apps that they need from the Apple App Store while users with devices running on Android OS will download apps from Google Play Store. The number of applications in the Google Play Store is nearly 3.04 million as of September 2020. On the other hand, the number of applications in the App Store is nearly 4.4 million.
However, the number of app downloads in the App Store is significantly fewer than that of the Google Play store.
In the 2020 first quarter alone, the total number of downloads in the Google Play Store was 24.3 billion, followed by 28 billion in the second quarter, and 28.3 in the third quarter. During the same quarter, the number of app downloads in the App Store was 9.3, 9.1, and 8.2 billion respectively.
When comparing these stats with that of the previous year, Play Store has registered a staggering year on year growth of 31.3% while the growth of App Store for the same period has been a little underwhelming with 2.5%.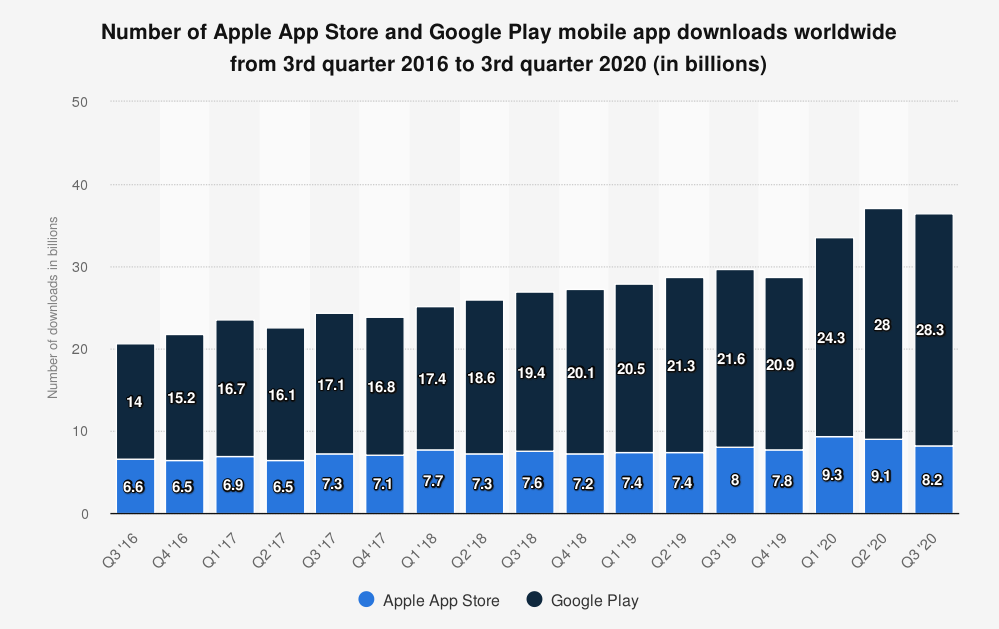 Apple App Store Downloads
With a share of 17% in the smartphone market globally, App Store has grown its repository of applications steadily to 1.96 million apps on the store for download with more than 30,000 apps being released on an average every month.
More than 90% of the apps available for download in the App Store are free and they generate income majorly from in-app advertisement.
Statista reports that for every four non-gaming applications available on the App Store, there is a gaming application.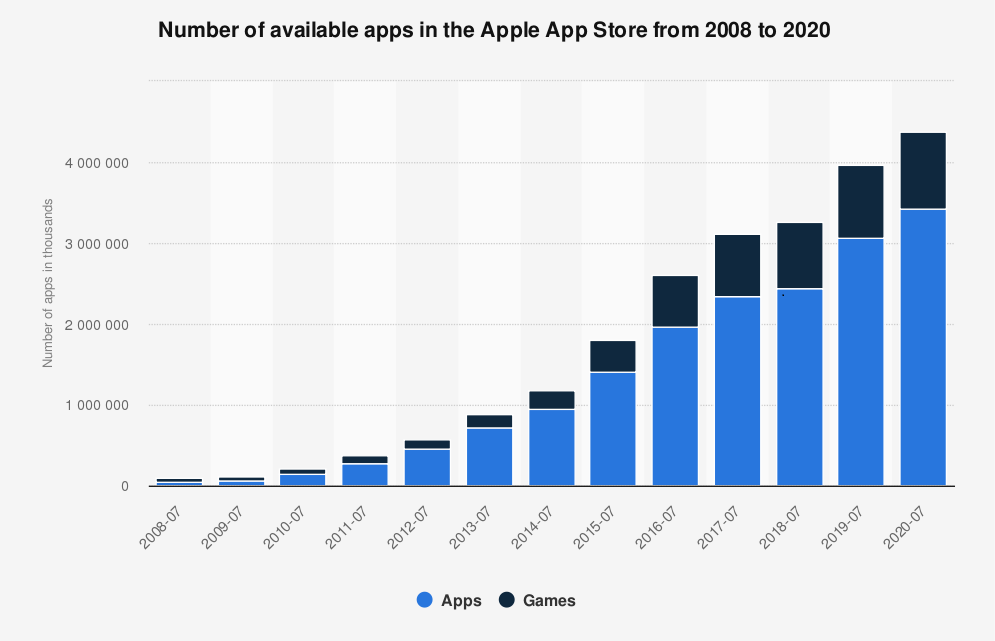 Google Play Store Downloads
According to Statista, the market share of Android devices is 87% and hence, the competition in Google Play Store is a lot lighter than in the App Store and it underscores the scope for market growth in Google Play Store for various mobile app development initiatives in India that wish to list their applications in these stores.
While Google Play Store has reduced the number of apps available on the store now, on average, the number of apps recently released on the platform is more than 100,000 per month. This is a huge difference in the average monthly applications released as Google Play Store is fairly easier and more economic than App Store to release applications on.
This makes Google Play Store the go-to option for mobile app development companies in India to list their apps.
In 2020, the total app downloads in the Google Play Store amount to a staggering 108.5 billion downloads.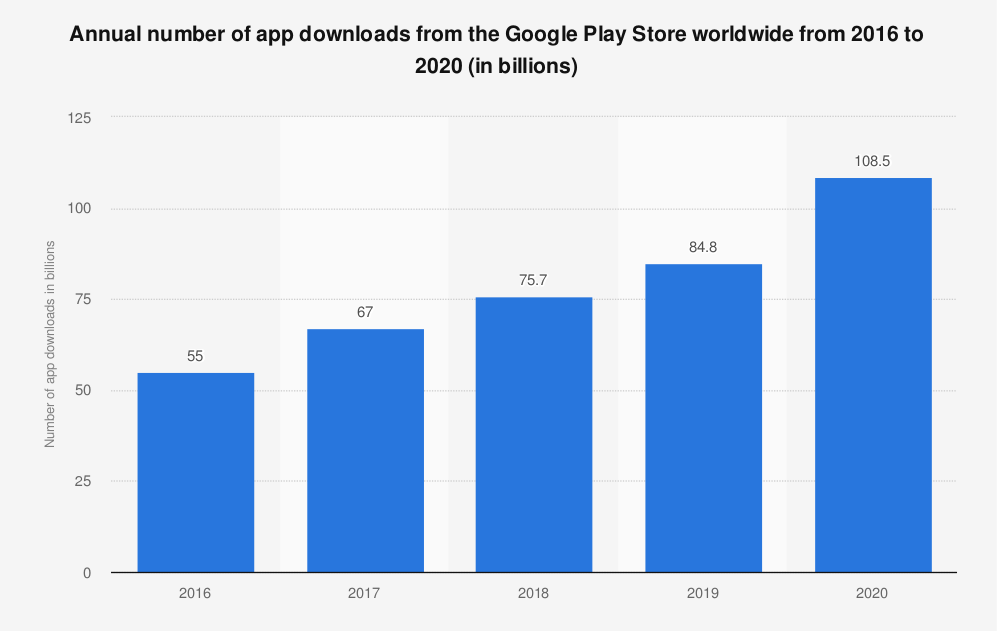 Most Popular App Categories
In the App Store, the most downloaded apps belonged to the gaming category, accounting for 21.86% by August 2021. This asserts the lucrative nature of the mobile gaming industry and creates immense opportunities for game mobile app development in India.  Gaming apps were followed by applications that came under such categories as Business, Education, Lifestyle, Utilities, Entertainment, Travel, and Food and Drink. These applications together accounted for more than half of the total downloads happening in the App Store.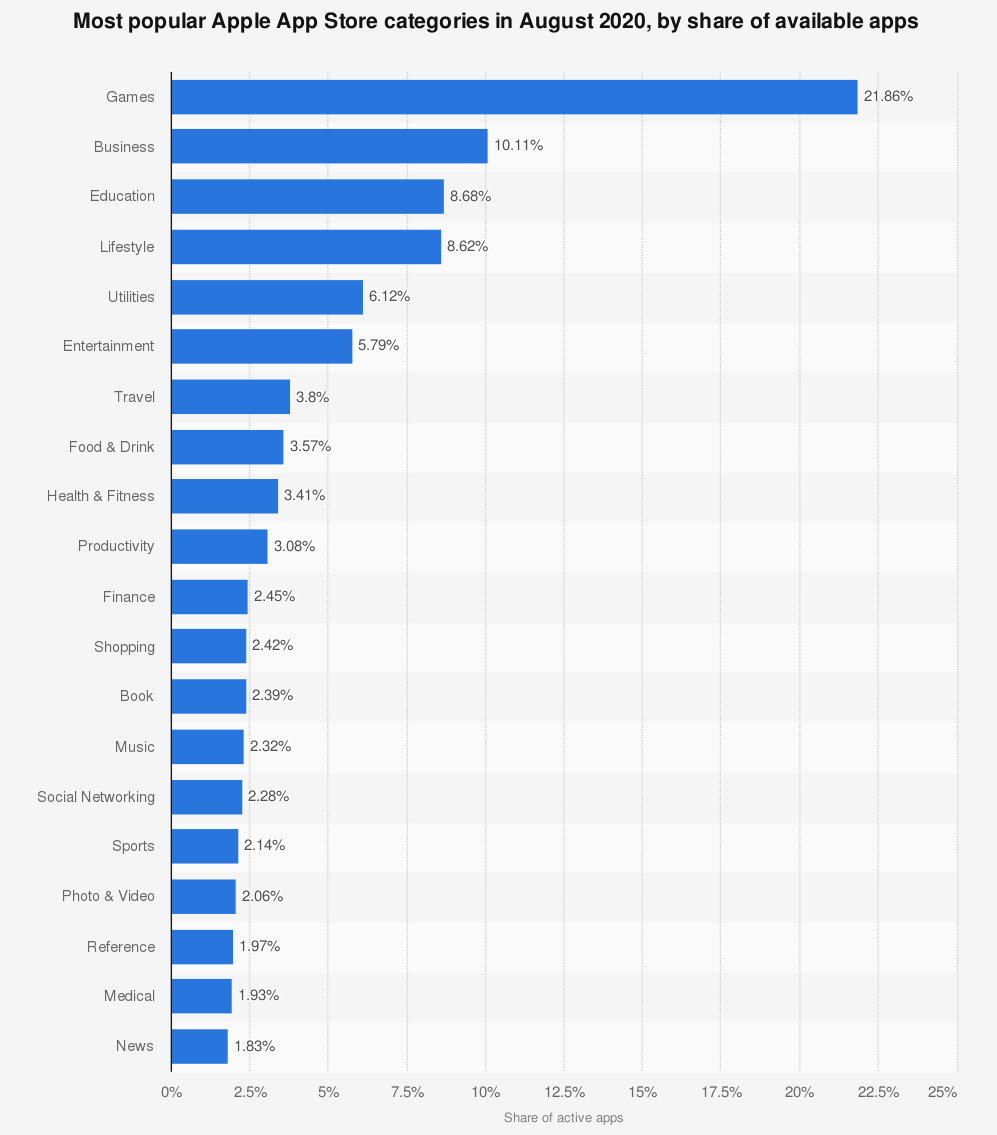 The case is also similar to Google Play Store, as well. The title of Most Downloaded App Category goes to mobile gaming apps in Google Play Store as well with 10.35 billion app downloads in the second quarter of 2020 alone. Tools and entertainment applications came in second and third positions in the same time period with 1.55 and 1.21 billion downloads.
Mobile App Usage Statistics
In 2019, consumers downloaded 204 billion applications and the number has been steadily increasing year on year. The increase is a whopping 45% from 2016, as reported by App Annie.
The amount of time spent by an average smartphone user on their device in a day is 190 minutes. And nearly 90% of the same is on mobile applications, which amounts to 171 minutes daily.
If you are on the verge of initiating your mobile app development project in India, this is news for you.
In the hands of an average smartphone user, a maximum of 9 applications are used every day while the number is 30 monthly.
Of all the applications that a user has on his/her phone, 62% of apps are not used every month and 25% of apps are only used when it is downloaded for the first time.
Global Apple & Android Apps Spending
The intent of any mobile app development company in India is to help their client monetize the app. Even though app developers want to earn income, they use the free-app strategy to provide the app free of cost to the users while trying to earn revenue through in-app advertisements. 92% of the apps in the App Store and 96% in the Google Play Store are free.
However, mobile apps are expected to generate a revenue of USD189 billion in 2020, says buildfire.com while the spending passed USD100 in 2020.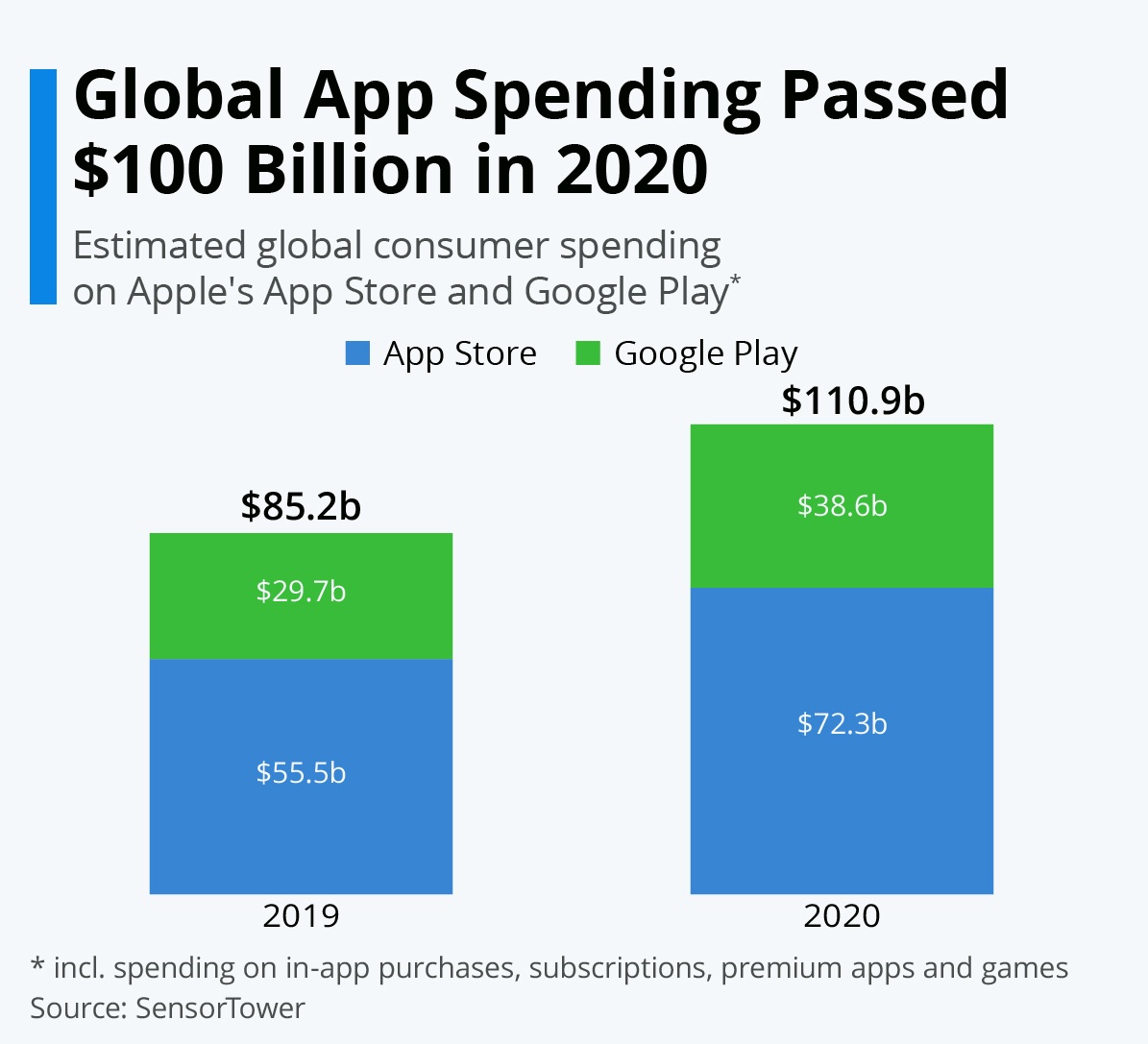 Likewise, the in-app advertising spend is also looking to soar to new heights as it is estimated to touch the new threshold of USD201 billion by 2021
The total spending by consumers in the first quarter of 2020 on mobile apps was USD26.4 billion which has registered a growth of 28.8% year on year.
Apple's APP Store contributed the most to the figure with USD17.2 billion with a year-on-year growth of 29.3 percent while Google Play Store registered a growth of 27.8% with total revenue for the quarter amounting to USD9.2 billion.
This shows that even though Google Play Store boasts a higher market share than App Store, its users spend less than iOS users. Hence, with your next mobile app development project in India, if you release the app on App Store, you will have better chances of getting paying and upgrading customers on the App Store than on the Google Play Store.
Mobile App Usage Demographics
There is no doubt that depending upon a person's age, his/her mobile app usage can drastically vary.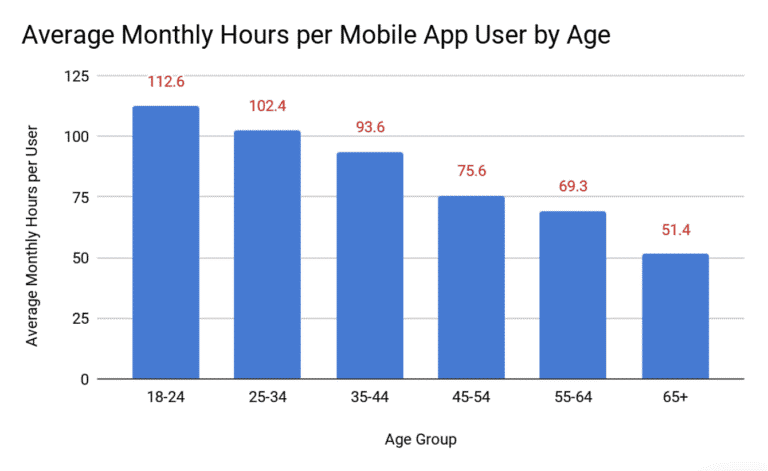 As you can see here, as the age of a user increases, the number of hours spent on mobile apps gradually comes down. Hence, it makes sense for you to target your app to younger people for better chances of download and usage-time.
Furthermore, millennials and gen Z are responsible for taking the world's app trend-forward as they are born during a time when the technology was already matured.
About 70% of millennials state that they use social media apps more than any other apps routinely with messaging apps coming with 55% of users actively using them.
One of the major factors that influence their decision to use an app is the amount of data that an app consumes, say 37% of millennials. Studies state that more than 21% of millennials open a mobile app more than 50 times a day.
ComScore reports that Gen Z, who fall between 13-24 years of age, use mobile apps the most, with 71% of them spend their online activity on various mobile apps.
Mobile App Usage by Countries
According to the report by App Annie, the trend of higher daily usage of mobile apps is stronger in emerging markets like Indonesia than most mature markets like the US, the UK, China, Brazil, and India. Indonesia leads the way with a whopping 280 minutes spent on mobile apps on average.
The stats in China are particularly interesting, as the country has an average daily of mobile apps that clocks at 240 hours.
What's interesting here is that, although China is considered a mature market, most of the country's rural areas are much like emerging markets. It is the metros like Beijing, Shanghai, and Shenzhen that are considered ultra-modern and advanced.
Markets like India, Canada, and France have also registered significant growth in app usage time from 2017. India is a WhatsApp-leaning market as the country is inclined to use the app as an alternate means of effective, cheap communication.
The number of apps downloaded in 2020 continued to grow akin to the trend it has shown in the previous years with such regions as China, Europe, and Southeast Asia leading the way.
It is expected that the total number of app downloads will touch a staggering number of 300 billion by 2023.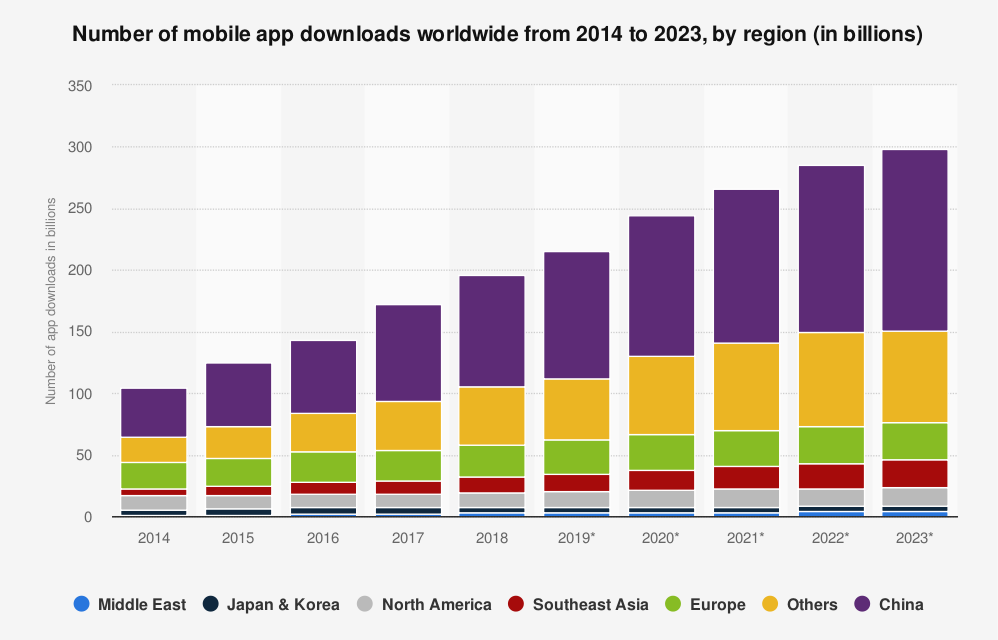 When it comes to the highest number of mobile app downloads in countries, China is way ahead of the curve in terms of both numbers and percentage increment year on year. In 2017 China accounted for 79.3 billion app downloads which moved up to 89.7 in 2018—more than 12% growth. India came at second with 12.1 billion downloads in 2017 and 17.2 billion in 2018 with a growth of nearly 50% year on year. India was followed by the US, Brazil, and Indonesia.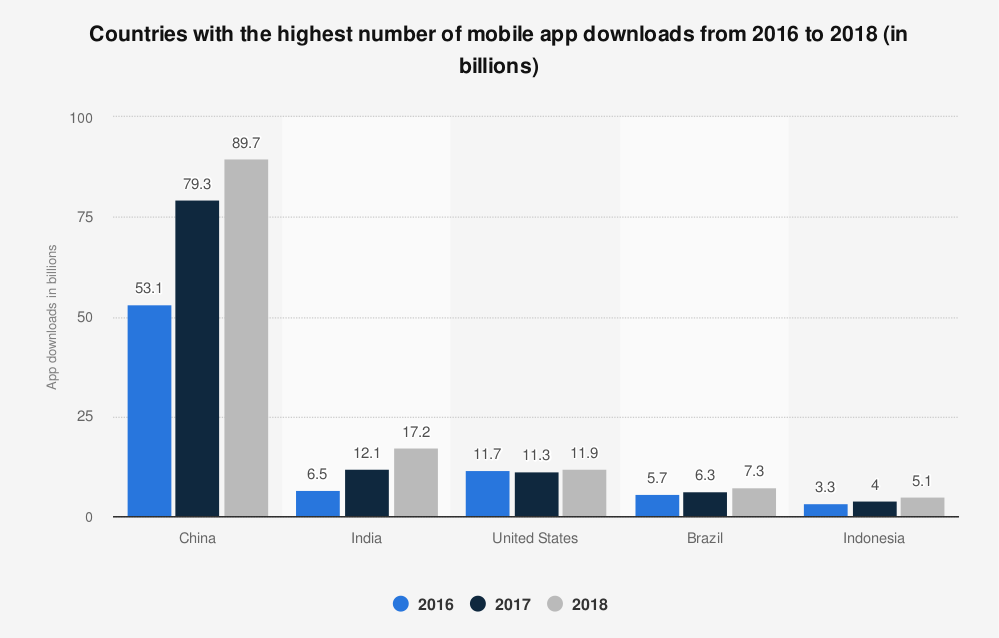 Conclusion
Mobile applications have become a part and parcel of our lives. It would be impossible for us to fathom a day when we cannot use an app.
The insights and industry stats provided here would assert the fact all the while underscoring the fact that the trend will continue.
While smartphone penetrations are reaching soaring heights, the upward trend is bound to make any mobile app development company or an entrepreneur delighted. Because there are still opportunities for new ideas to take shapes of seamless apps that can make the lives of the users better.
However, if you are a business person or a business that offers mobile app development services in India, you cannot develop an app without learning about the industry first; knowing about the trends in the market, and learning about the users to create effective strategies first.
We are confident that this post will give new dimensions and avenues to your mobile app development initiatives in India and help you make it worthwhile for you and the users at the same time.