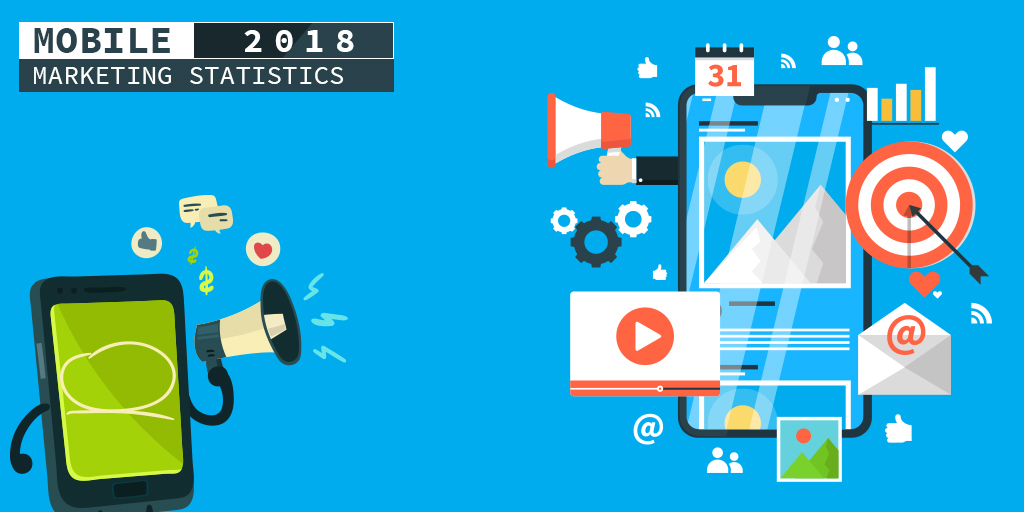 9 Mobile Marketing Statistics that will influence your strategy for 2018
Are you reading this article on mobile? If yes, then probably half work is done. This means you are already aware of the shift of the current generation towards the mobile and the increasing time spent on it. Now, just a compilation of some meaningful statistics can help you formulate a right mobile marketing strategy for your business in the year 2018.
As per Statista, there will be 4.9 billion mobile users all over the world by the year 2018 and it is also estimated that 2.5 billion out of them will be a smartphone user. This means over half of the mobile users are smartphone users. India is reported to have 530 million smartphone users by the year 2018.
The Asia Pacific is the core region of growth of mobile subscribers. India and China together count for 1 billion mobile subscribers currently and both of these countries will account for nearly 50% of mobile subscriber growth from 2017-2020. Guess, this is due to the affordable mobiles from local manufacturers like Oppo, Xiaomi and etc.
As per StatCounter, Android surpasses Windows this year with global OS share of 37.93% Further, in Q1 of 2017, Android was a leading mobile OS with a massive market share of 85% and the share of iOS was only 14.7%. Seems, the Android will dominate the markets in the coming year too.
Digital usage has reached to 5.7 hours per day in 2017. Mobile now represents almost 2 out of 3 digital media minutes. Mobile usage has increased from .3 hours in 2008 to 3.1 hours in 2017 and it is going to increase, looking at the addiction of mobile, people are having now.
According to Criteo, users browse 286% more products in apps than on the web. 85% of mobile users are comfortable using an app than a mobile website. Users spend 18 times more time on an app than on mobile site.


The industries who adopted mobile site

Restaurants – 88%
Travel and hospitality – 85%
Media and entertainment – 80%
Retail trade – 78%
Healthcare – 73%
Education – 69%
Manufacturing – 65%

Are you one of them?

Mobile has influenced consumer spending already by over $1 trillion. 90% of      smartphone users use their phone while finalizing a purchase in brick and mortar store. A search on mobile definitely leads to action. 92% of people who search on mobile generally end up making a related purchase. Hence, mobile plays a big role in converting a visitor into a buyer. Source: biznessapps.com
By 2018, m-commerce sales are estimated to reach $626 billion. Out of 5, 4 consumers use a smartphone to shop and 25% of mobile retailers made 50% of sales from mobile. Source: smartinsights.com
About 59.5% of Google's net global revenue came from mobile internet ads in 2016. Facebook mobile ads count for 79% of its business. It is predicted that desktop advertising will account for 42% of all internet advertising while mobile advertising will have larger share with 58%.
Nearly 60% of searches are from mobile devices and 30% of those are local searches.
Is that too much of numbers together? Well, yes but it is needed to take a rational call in business.