December 08 2014
Whether you have an idea for starting a new business or expanding your existing one, you've probably considered developing a mobile app; and truly speaking, it's not a bad idea. Mobile applications are extremely popular at this moment, and they're making the way for new and enthusiastic business ideas. The main problem here, especially for the smaller-sized businesses, is trying to figure out the right approach to mobile app development.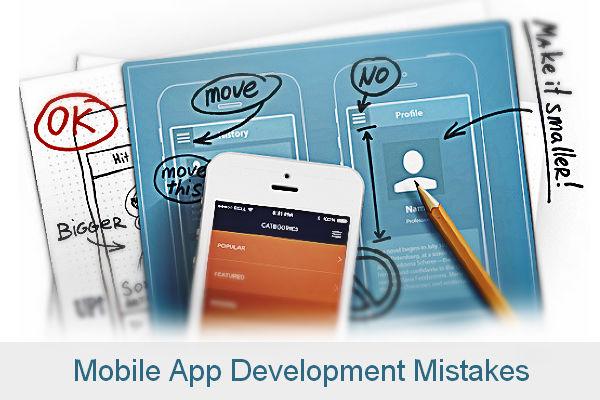 Here are a few mistakes that one should avoid while developing an app in order for a business to get truly flourished.
Not making enough platform considerations
It's important to decide the best suitable platform for your app beforehand whether it is iOS, Android or Windows. Some app developers base their choice on stereotypes. In fact, you will find some developers building their app for iOS just because they believe monetization would be easier on the App Store. Although it is true in some cases, it's not universal. There are many other factors that must be considered while making platform selection.
While iOS is extremely popular in the U.S., Android rules globally. So if you wish to publish your app in multiple countries, Android is a better option. So, when you make any platform decision, you need to think of every possibility and alternative. Failing to do so can make you severely limiting your audience.
Thinking of the mobile environment as a downsized web experience
The developers need to get this very clear. A mobile app is different from a website in every respect, including the size, functionality, and scope. The difference is so crucial for your app that a disapproval of your app's design may get it selected or rejected by Apple. Even then many developers miss out on this important detail. The question is: Why? While some people think that their app should be analogous to their website, others believe that it is somehow less valuable; and this is not really away from the truth.
Mobile apps are valuable primarily because they are accessible on the go, their touch user interfaces are more intuitive and they are infinitely customizable. A good mobile app holds firm on pre-established designs and standards, while making optimal use of the available hardware to create a smooth and delightful experience.
In addition, responsive web design has made mobile experience more user-friendly than ever. So, before jumping to the development, it's important that you do everything you can to point out what makes your product unique, and then bring it to life as an example of exceptionally-designed software.
Monetization issues
Given so many ways of monetizing an app, it can be extremely daunting to select what's best for your app. Should you go for a subscription model, or do should implement a freemium approach? It's difficult to make the correct choice. Sometimes it's better to leave both the options and go for in-app advertising instead.
Anyways, if you have time to make the right decision, you should probably start thinking about the monetization process in the early days of development only.
Your app is going to sell itself? You are fantasizing!
It doesn't matter how positive you are about your launch; when you publish your app, you are placing it among thousands of competitors. So, if you don't have a well-established plan to increase your visibility, you may disappear.
Also, before you start your marketing campaign, it's important to define your audience. Also, make sure that your app recognizes specific issues that affect the market, and your app is designed to address those issues.
Testing the beta version yourself
There is a reason why beta testers are important. They provide valuable external perspective to help catch issues with your app which is not possible otherwise; and it is not just the bugs that matter, they may also offer ideas which may prove beneficial in making your app user-friendly. All in all, you should better drop the idea of testing the beta version of your app yourself and leave the task to the beta tester. Also, the more people you can have beta test your app, the more prepared you will be to send your app to the outside world.