September 30 2014
Startup world is tough. In fact, records suggest that 8 out of 10 businesses fail in the first 18 months. These surprising figures might leave you bewildered but you should know that many of these businesses don't fail because of under-performing products. Instead, the failure is caused due to the improper communication of the company's value in a transparent and consistent manner to the targeted audiences.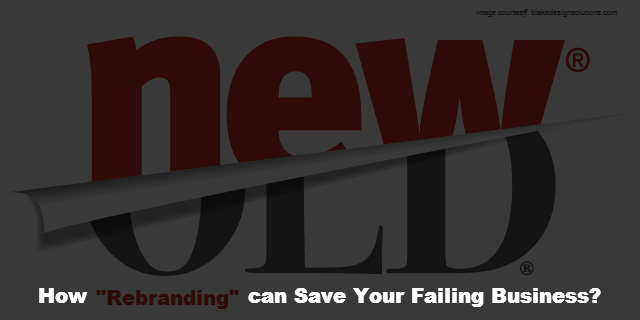 Take Apple for example. It was nearly bankrupt at a time; but now, it is one of the most recognizable brands in the whole world. Another example is of men's cologne brand, Old Spice. It produced advertisements and online campaigns that literally made it a viral sensation. These examples clearly demonstrate how right rebranding techniques can save businesses.
But, a successful rebranding campaign is more than just crafting a new logo and tagline. Rebranding involves creating a new story and portraying a vision that inspires customers and collaborators to perceive the company in a more relevant way. Here is a list of few practices that can help you revive your brand:
Determine the company's strengths and weaknesses
Sometimes it's better to take a step back before moving forward. You need to honestly analyze your strengths and weaknesses. It is crucial to understand what makes your business different and better from the rest of the providers. Brands that identify and demonstrate this differentiation are able to communicate their value to the market in a better manner.
Re-analyze the target market
Often, a company introduces a product to a wrong segment of customers, or the segment is correct but the product does not meet the customer requirements and expectations. As such, companies should re-evaluate the target markets and customer segments; and try to align client needs with company's capabilities.
Determine how customers will make use of it
Simply portraying a product's capabilities and identifying the target segment is not enough. Companies should spend a considerable amount of time to understand how customers will use the extended product or service and interact with your brand.
Craft a persuasive story
As an entrepreneur, create the most compelling story of your company by identifying and documenting the most important and special aspects of your product and brand. Documenting that story will help your employees, collaborators and customers tell the same story.
Gain customer testimonials
Satisfied customers are perhaps the best advocates for a business. Spend time creating a happy customer base and ask them for a short yet nice testimonial. You can also ask them to become the subject of a video case study. Having customers tell themselves how much they adore your product or service is priceless.
Set employees to active mode
Once your story and vision are clearly established, you should communicate it to your employees. Also, try to keep it simple. The easier it is for your employees to tell the story, the more they will.
Develop a content factory
You cannot sell your products and services to all customers in the same way. These days, most of the buyers are better educated about offerings than a company's own sales people. As such, it is critical to provide information in an appropriate format to the buyers that they would like to consume at any given stage of the sales cycle; and the best way to deliver meaningful content is to build a content factory.
Get engaged in conversations
Twitter, LinkedIn and Facebook have greatly changed the face of shopping. Reaching to the target audience now means communicating widely and getting engaged in important conversations on these popular social media channels. It helps build a significantly large and relevant follower base. Customers need a trusted resource that can help them in the decision process before making the actual purchase.
Maintain consistency
Maintaining consistency is equally important as implementing the creativity when you are reviving your brand. Once you define your brand and determine how to communicate it, the next crucial step is to consistently communicate your key messages.
Starting and maintaining a business demands commitment. Rebranding can put your company back on the right track but it takes time to assess the strengths and weaknesses, communicate the brand's value to customers and build a long-lasting reputation.