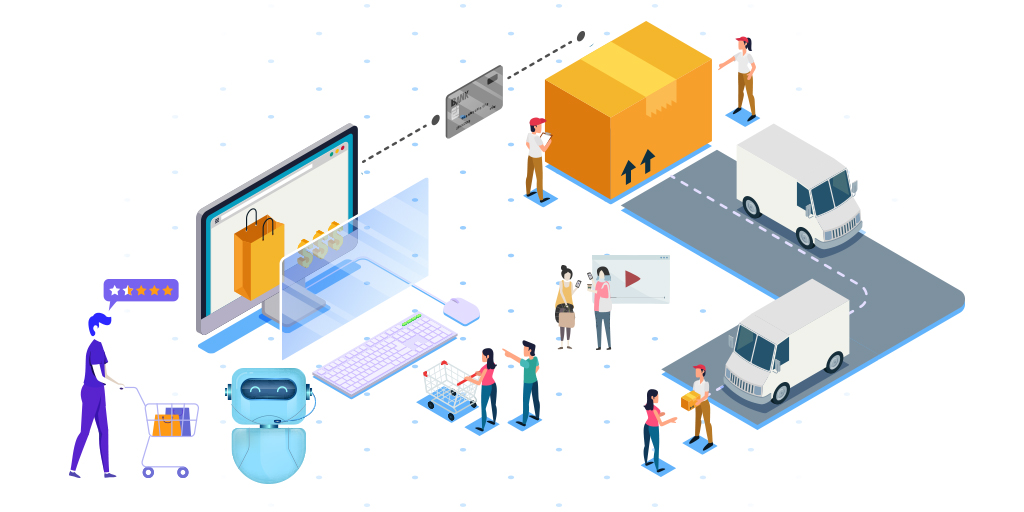 March 20 2019
E-commerce domain is a highly transformational arena that keeps on changing with the changing market scenario and dynamic customer engagement. Each year we can witness a trail of trends that dominate this industry and further make revolutionizing changes. Mobile conversions have been a prominent trend last year. According to market studies, e-commerce mobile sales were increased by 55% in 2018 and it is further predicted that by 2022 smartphones will be generating sales around USD 175 Billion. Along with growing sales, customer expectation has been soaring up.
A recent study by shopify.com revealed that 38% per cent of online shoppers are expecting great things from their favourite e-commerce sites, one being, same-day delivery. In order to generate a long term relationship with customers and cater to their dynamic needs, it is important to follow some effective and productivity oriented steps to reach the desired level of success. Following are some E-commerce trends to watch for in 2019:-
Converse With Customers
There's no better way to generate sales and cultivate a staunch base of customers than the increasing conversation with them. Several user experience consultant suggests that stimulating a conversation with the customer before and after the purchase phase assists in building a personal relationship with them that further paves way for loyalty towards the brand. Start a conversation with prospective clients and keep engaging the existing customers and gather micro feedback via texts and emails to further enhance their experience.
Chatbot AI
The inclusion of Chatbots  have been changing the e-commerce realm for the better and it will continue in 2019 also. Every customer wants prompt and relevant answers to their queries related to the purchase. Chatbots basically bridge the so-called gap between brand customer via live chat. Studies have proven that 48% of online shoppers have shown interest in connecting with the company via Chatbots over any other online means.
AR Domination
Augmented Reality is soon going to explode in prominence this year. With the inclusion of AR powered 3D warehouse and 3D modelling experts, it has become extremely seamless to welcome AR into e-commerce stores in order to take customer experience to a whole new level. AR-based shopping will not only enhance the buying experience but will also make it more rich and refined. AR allows customers to test out and try out different products from the comforts of their home.
Video Content
Studies have proven that consumers around the globe spend more time watching video content than reading the textual content regarding any products. Video content was recently introduced to the e-commerce  realm where merchants exhibited interactive and informative video regarding their products with a view to enlighten and engage the consumer. Video helps in showcasing the product more personally and specifically. 2019 will be the year of revolution in influential video content to drive sales into e-commerce trade.
Online shopping is all about providing a seamless way of shopping to the customers across the world where they can complete the entire purchase procedure within a few clicks and get their products delivered at doorsteps. One thing that is common in above-mentioned trends is that it enhances the shopping experience of customers that eventually drives sales for the business. Keep customer experience and convenience in order to get that competitive edge in the market.