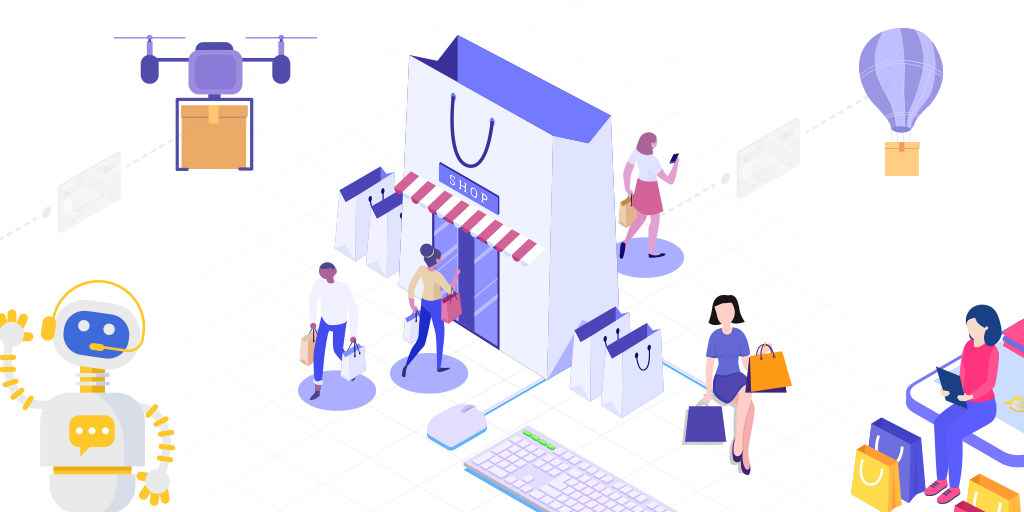 March 13 2019
Since its inception in the digital realm, e-commerce has been known as a transforming shopping landscape. The seamless shift from physical shops to online stores has bought a remarkable change in consumers' buying experience. E-commerce portals are continuously working towards expanding their virtual reach in order to flourish their online retails along with making buying experience more seamless than ever. Allowing customers to buy products and get services at their doorstep is something that makes e-commerce a prominent shopping landscape in this digitally dominant world. According to a recent study, around 51% of Americans love to shop online year which leads to an average e-commerce revenue growth of 245 per annum.
With technological evolution and dynamic customer requirement, the e-commerce landscape is vulnerable to micro-transformations. Every hour you can expect some significant changes in this online shopping landscape that will be aimed to enhance customer experience and cultivate better revenue results. E-commerce landscape is highly unpredictable. From constant evolution to timely updation, e-commerce witness several transformations that are aimed to stay in lead and win a greater share of the pie. 2019 is to predict to be yet another stellar year for e-commerce evolution. Following are a few of the trends that are all set to revolutionize the global marketplace.
AI Powered Chatbots
AI  technology paired with the smart chat, Chatbots  is an ideal combination to take customer's buying experience to a whole new level. Providing 24/7 chat support offering responsive answers and solutions, Chatbots are the perfect assistance for resolving customer queries. AI-optimized Chatbots will only make this feature more smart and intuitive. A recent study conducted among 5,000 respondents revealed that 51% of them consider their chatbot perception as positive and highly helpful in buying certain products that significantly exhibit their prominence in the e-commerce landscape.
Delivery Drones
One of the most exciting and exceptional transformations that are about to set foot in the e-commerce landscape is drone delivery. Though the concept is in the testing phase, it is predicted that drones will take package delivery to a whole new level by allowing retailers to deliver packages more efficiently and quickly than ever. With a delivery time of around 60 or 30 minutes from order, delivery drones will certainly make tremendous transformations in the e-commerce domain. The inclusion of drones into the e-commerce landscape is aimed to minimise the logistical hassle and maximise customer satisfaction. Among all the other e-commerce landscapes, Amazon is quite close to turning drones into reality and we can soon expect drones knocking at our door with packages.
Personalized Treatment
Presently, almost all retail growth in the US is cultivated by e-commerce making it a highly popular shopping alternative in the country. It is further predicted that e-commerce will continue to dominate the shopping landscape in the coming years. Indulging in enhancing the personal relationship with each and every customer will only leverage the retail growth. Better customer experience and turning them into loyal clients is a holy grail for e-commerce businesses. Increasing customer interaction and availing of their micro feedback builds a sense of loyalty amongst customers.
The future of e-commerce is certainly unpredictable but will be remarkable indeed. Whether it is increasing delivery time, improving customer service, or better product selection, marketers and online retailers are constantly working towards making exceptional changes to take the e-commerce landscape a notch further.