May 31 2023
Mostly there is a big sigh of relief once the website is completed and uploaded but wait, do you actually think that it is done forever? NO, just like your car, your body, your house, and even your website need maintenance on a periodic basis. Many people think that website maintenance is majorly about fixing the bugs that pop up after launching it but actually, it encompasses a lot more. Upgrading the website's visual branding, integrating with new systems and updates, or uploading fresh content is all part of maintenance. A website is the first impression of your business and this needs to be in line with the constantly evolving environment around you in order to not fall behind in the competition.
What is Website Maintenance?
Website maintenance is simply the process of monitoring your website for faults regularly and ensuring that everything is fully updated and responsive. You must do this on a regular basis in order to keep the website fresh, secure, and reliable. This increases your SEO and Google rankings while encouraging traffic growth.
It is necessary to keep your website updated, whether you are a huge organization, an individual, or a small businessman. This enables you to interact and connect with targeted customers and potential guests on your website while also preventing severe issues.
Examine whether your website's pages load rapidly and without any problems.
Create a backup of your website's data to verify that it is safe.
Make sure your site's software and plugins are up-to-date.
Examine all the forms to make sure they're working properly.
Delete spam comments from your website's posts or pages.
Make sure there aren't any broken links on the pages.
Investigate your website for 404 errors and resolve them.
Keep your blog updated to keep your audience interested and returning.
Maintain control over their web hosts and ensure that everything is running efficiently.
And this is only the weekly evaluation. Maintenance on a monthly basis entails reviewing your website's speed, conducting security checks, assessing website analytics, and revising blogs that need to be updated. You must also consider upgrading the appearance of your website as well as assessing your existing advertising and marketing activities.
It's all about providing workload efficiencies to automate as many procedures as possible when it comes to website maintenance. It entails reviewing your website's backup health and putting it through its paces on various browsers to ensure it runs smoothly. Here is the list of web maintenance services that one must keep a check on.
What are included in the Website Maintenance Services List?
We have already provided a basic explanation of what website maintenance includes. It's now time to go over the key services that are included in the Web Maintenance Services List.
1. Scan for Vulnerabilities
Security should be the primary reason for website maintenance. Check for spam that may have surpassed your filters. Scanning for vulnerabilities regularly assures that your website is not attacked or taken over.
2. Repairs and Fixes
This is all related to errors, bugs, and broken links. Both internal and external links should be checked. A link checker can be run to look for broken links that frustrate the users and reduce the search engine rankings.
3. Browser Compatibility Testing
Ensure that all aspects of your website are functioning properly in the most common browsers. Your website must also be compatible with less-used browsers.
4. Software Update
The critical software your site relies on should be updated. For example; the content management system, its themes, and plugins. Also, upgrade non-critical software if they are worth applying.
5. Website Backups
The database backups would be automatically performed on a weekly basis and restored at least once every six months.
6. Site Speed
This is a very critical point to check. Use Yahoo's YSlow or Google Pagespeed Insights to identify the issues which are slowing your site's speed.
7. Search Engine Optimization (SEO)
With SEO you identify the issues which are affecting the ranking of your site.
8. Analytics
Through the Google Analytics dashboard, check the important metrics of your site and the trends in those key metrics.
9. Functionality
Check all the important functions like filling up signing forms, contact forms, checkout forms, etc to ensure that everything is working smoothly.
10. Website Content
Fresh and updated content on websites is what users and search engines like. Therefore regularly review your content, correct the mistakes, and upload new information with targeted words in a fresh style.
Well, these are the basics of website maintenance services. A business may go deeper into it, based on its website but must not ignore it. Nurturing and maintaining the website is the simple funda for the online success of a business. Maintenance really ensures the website's performance at its peak by removing errors, and security issues and delivering the best user experience to the customers.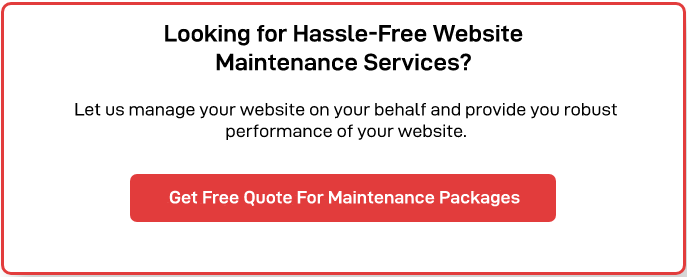 Why is Website Maintenance Important for Businesses?
Your website is most likely the very first thing potential consumers look for, and they're looking for relevant information, quality, and expertise at the same time. This is when website maintenance becomes crucial. Regular content revisions will assist your website to engage and maintain visitors while also maintaining a high search ranking.
There are numerous other reasons to keep your website updated on a regular basis, including:
Enhances User Satisfaction
View your website from the perspective of a visitor. You will be irritated if the processing speed is slow and there are broken links all over the site. However, you will be pleased if the website is well-maintained, with good web design and necessary details. After all, your top priority is to provide a great user experience. Your visitors will be impressed with a good website, which will encourage them to use your products and services. Furthermore, by suggesting your brand to their family and friends, they become brand promoters.
Improves Your SEO
Google favours websites that are well-optimized and deliver the most valuable content. However, if your website's redirects are ineffective, your company's search engine ranking will suffer. If Google examines your website and detects issues, you may be de-indexed. The main purpose of your website is to generate visitors, therefore keeping it up to date with relevant data, news, keywords, and other information can help you remain current.
Boosts Protection
There is nothing more essential than the security of your website, especially if it stores sensitive data. Frequent software upgrades and security updates are essential for keeping your website secure and protected. Hackers may be attracted to a website that hasn't been updated in a long time. Furthermore, failing to address security problems for a prolonged period of time might result in downtime or possibly total business failure.
How Much Does Website Maintenance Cost?
Website maintenance is necessary to keep your site consistent and working efficiently. Many elements must be taken into account, including website design, marketing tactics, frequent software updates, and domain and storage costs. You should budget for web maintenance costs when you are planning their website development budget. By including web maintenance in your budget from the start, you can avoid any unexpected costs down the road.
Moreover, the platform and functionalities you select when creating a website have an impact on its ongoing costs. The costs of using a website builder versus a content management system will be considerably different.
Domain name renewal, web hosting plan rates, and secure sockets layer (SSL) license charges are all included in website maintenance costs because they are required to keep your website active. Then there are the expenses of email accounts, specialized technical support, and eCommerce services, which vary based on the kind of website.
Other costs such as website design, plugins, and search engine optimization (SEO) are necessary to improve the operation of the website and increase traffic. The amount of money you spend on each category is determined by the needs of your website. We'll go through nine crucial website maintenance charges to help you plan your budget.
Make a list of your needs and get quotes from various service providers before deciding on a web maintenance plan. Take a look at the anticipated website maintenance costs for various types of websites.
The following are the important website maintenance costs:
$10-$20 per year for a domain name.
SSL certificates are available for $0-$50 per month.
Web hosting services range from $2.75 to $15.00 per month.
Email hosting costs between $1 and $5 per month.
$0-$1,000 per month for technical support.
$0-$800/month for search engine optimization.
Updates to the content – $0 – $3,000 in total.
$0-$200/month for general updates.
With all these steps in mind, you're all prepared to keep up the good job!
You can create an appropriate budget now that you know the average costs of website maintenance. Keep in mind that your costs will vary based on the type of site you're running: an eCommerce store accepting payments on-site, for example, will require more SSL security than a personal blog. Many basic fees will be included in your plan if you choose to use a website builder.
Website Maintenance Checklist:
Following an effective maintenance schedule guarantees that your site continues to serve as one of your most useful marketing tools. We've created a checklist of actions to keep your website up to date-and running smoothly for your visitors. Here's a comprehensive list of website maintenance tasks to keep in mind:
1. Website Maintenance Checklist on a Weekly Basis
Verify for 404 errors and, if any exist, correct them.
To enhance SEO traffic, publish one or more blogs.
Check to see that all of the forms are functioning properly.
Create a blog article to promote in your community.
Look for any broken links.
Plugins and software that are vital to the system should be updated.
2. Website Maintenance Checklist on a Monthly Basis
Perform a security audit.
Check loading speed and resolve any errors as soon as possible.
Analyse the most important statistics.
Ensure that your website is visible in local searches.
Make changes to the material to make it more relevant.
Analyse the most and least prevalent content on the website.
3. Website Maintenance Checklist on a Quarterly Basis
Look for any areas where you can improve the content.
Graphics and images should be updated.
Meta descriptions and titles should be updated.
Keep track of your website's backups.
Check to see if popups, forms, and other features are functioning properly.
Examine your website on the most widely used browsers and devices.
Examine the uptime logs – if it's less than 99.9%, take action.
Check to see if your site is mobile-friendly.
4. Website Maintenance Checklist on a Yearly Basis
Consider updating your website's design.
Revise the copyright information in the footer as well as any references.
Domain names should be renewed.
Examine the content for accuracy.
Your best-performing blogs should be updated.
Conclusion
The internet is always evolving, and so are the industry standards followed by social media platforms, browsers, and other websites. You may have heard, for example, that SSL is becoming a required feature of browsers and search engine experiences, and that not having it can damage how individuals view and find your website. SSL is a great thing to have on your website, but it isn't a user-friendly installation, and the work can be compensated under a regular maintenance contract if managed correctly.
One of the finest methods to supplement your monthly revenue while also providing something of value to your existing clients is to offer website maintenance services. It will not only increase your sales but will also help you to retain existing customers engaged. Eventually, this will aid in your growth. It may require some initial investment, but as long as you've got the larger picture in mind, you'll be successful before you know it.
We hope that this article has helped you see how important it is to include website maintenance services as part of your website design process and to keep your website healthy in the long run.