October 28 2014
Since Google previewed 'Android L' at its Google I/O developer event in June, developers as well as customers were waiting for the final version to be released. The wait came to an end when Google finally released Android 5.0 Lollipop on 15th October. The company also launched the platform lead devices for the version, namely the Nexus 6, Nexus 9, and Nexus Player.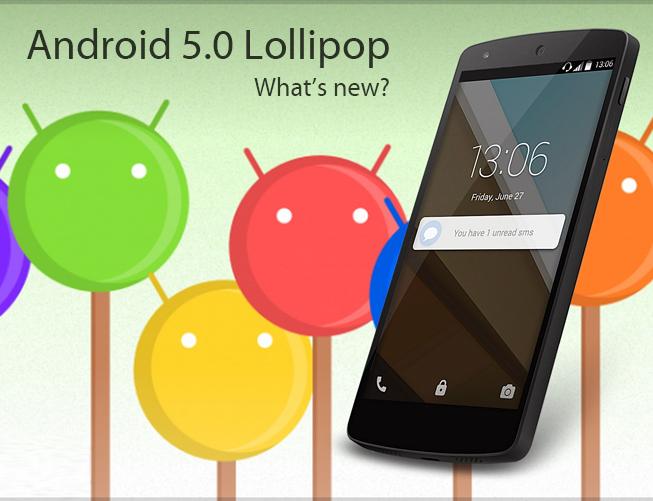 There has been a variety of features introduced in Android 5.0 Lollipop since the Android L preview. While some features are relatively new, other changes include extensions to the themes and detailing of the existing features.
Here are some of the major changes that the company brought with the Android 5.0 Lollipop release.
Material Design

Material Design is perhaps the most important feature to discuss. When Google first introduced Android L, it was said that the next version will be given a complete visual overhaul for a consistent experience across multiple devices; and it seems like the prediction turned out true. Android 5.0 Lollipop owns a cleaner, flatter design with a more enhanced interface and visual effects.

The revamped navigation and status bar as introduced in the Android L preview are still there but now the status bar can be coloured or kept transparent. Also, there are refreshed status icons. The 'Quick settings' menu has also been updated to include new controls like a flashlight, hotspot, and many more options. The recent apps menu now appears like a stack of cards as compared to the earlier view where a list of screenshots of recently open apps was displayed.

Notifications Revamped

The lock screen now displays richer notifications. In fact, users can view and reply to messages directly from the lock screen. To add more, Google has included rich floating descriptive notifications on top of your activity. Users have the option to view or dismiss the notifications without moving away from an activity. Basically, Google has provided better overall control over notifications.

Kill Switch and Enhanced Security

Android 5.0 Lollipop will feature an opt-in kill switch, a 'Factory Reset Protection', which will enable users to erase the device's data on will. It is required to enter the Google login to factory reset the device if a user activates this feature. Also, it will only work if the phone passcode is enabled. The company says that the new devices will come with an encryption feature auto turned on to protect data on lost or stolen devices.

Other security options include SELinux to offer even better protection against vulnerabilities and malware. Also, it will come powered with an Android Smart Lock feature. It will enable the user to pair their device with another trusted device like a wearable or even a car for improved security.

Messenger App

There is a new Messenger app that will come loaded with the Nexus 6. It will be more simplified than Hangouts, but is not a replacement for the application, says a Google official. Messenger and Hangouts will essentially offer users with two choices, each with its own benefits. While Hangouts works great for cross-platform and cross-medium communications, Messenger is specially designed to send and receive messages on Android.

Device Sharing

With this new device-sharing feature, users will be able to share their devices with other members of their family and friends without having to worry about access to ultra-personal content. The new version features a guest user mode, as well as a screen pinning option that lets users freeze the screen place that is being displayed without allowing guests to go further. Users can even log in to another Android device to retrieve synced messages and content.
Other features
There are many other features introduced with the Android 5.0 Lollipop. These include the battery saver feature that claims to extend the battery life by up to 90 minutes; new ART Android runtime for better application performance and responsiveness; support for 64-bit devices; support for new languages; enhanced accessibility features like text contrast boost, and improved colour differentiation; better audio, video, and camera capabilities, and various other features.
As such, the new Android 5.0 Lollipop has come along with a lot of features to offer to its users but it will only be seen in the near future how it will outperform the other running platforms.