Enterprise Mobile App Development: What you must follow for success?
The demand for enterprise mobile applications continues to rise. However, most of the companies do not have skills to craft a successful enterprise mobile app. Designing, developing and maintaining a truly robust application requires skill set often not found in-house.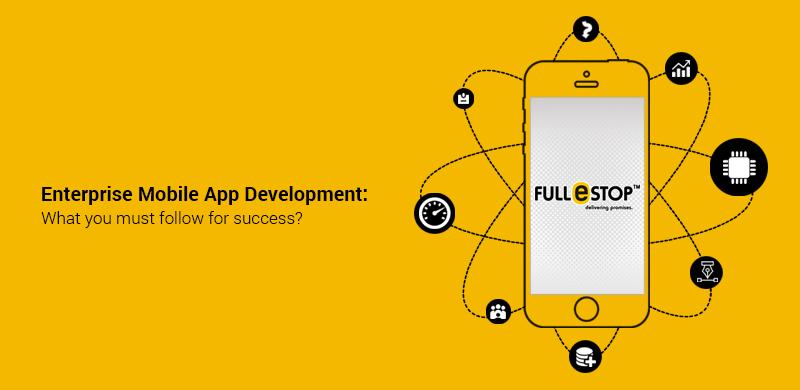 Hence, we are hereby giving you some of the best strategies to get started. Let's check them out one by one.

1. Idea or an obstacle: If you already have a clue about what you want to do, then you must jump to the next step, or else keep on reading. There are certain problems that most entrepreneurs solve very easily. Every problem we come across has been developed to solve some other problem. Having an exhaustive list will make you think how you should resolve your problems, and you can make a list of those which make good sense.

2. Need of identity: A proper validation demands existence of your app. Google keywords helps in this task. There are a number of people who seek what you do. You might land up making up an app of your choice and interests with the help of an email sign up.

3. Features and their flow: Having validated the idea you have for your app clearly means that you have a view of what people want to use. This is the perfect moment when you can very easily sum up your product details and engage in its production, you can even use a wire farming tool for your benefits to that extra mile.

It is when you pen down your ideas on the piece of a paper, you tend to get a proper detail of what you want to develop and that the users should use. The user who uses your app will use the navigate tool to find the product in your document. You have a responsibility of getting over the user's expectations.

4. Undesirable features: The documents you prepare look at them closely and find the ones you want to remove the versions you feel that the users are unaware of, you can publicize them using your social abilities. This can also be done with the help of market quicker.

5. Prioritize the designs: Entrepreneurs generally demand for basic design ideas, as they want to focus on what the users can get easily without any hustle. They also want that the app must look good and attractive. Well, they can't be right everywhere because app development is not just limited to the looks and their attractions. Design is a way that enables you to make your technology of complete benefit to your customers.

6. Hiring a cast: If you have your own development company and you have your great designs. You can create large no. of apps on regular basis

7. Developer accts: Register for developers online. You will get large no. of software designers in bulk. The people to whom you can sell your app.

8. Analytics: Make use of user-friendly tools such as flurry, this tool is available free in the market. One more app you can go for is the localities, that can be availed in free and paid version both.