Fullestop Reviews – Apple iOS 8 and OS X Yosemite
When Tim Cook welcomed more than 6500 developers in the Moscone Center in San Francisco for 2014 edition of the prestigious World Wide Developers Conference (#WWDC2014), he would have never thought that it would be such a success. For the first time in its history, Apple streamed the event live for the people across the globe and millions watched it live apart from those already present in the event itself. As expected the event featured the next iteration of Apple's proprietary Desktop Operating System (OS X) and the Mobile Operating System (iOS); OS X Yosemite and iOS 8 respectively. Ladies and Gents, this is an extensive Fullestop review of the #WWDC2014 and other Apple announcements.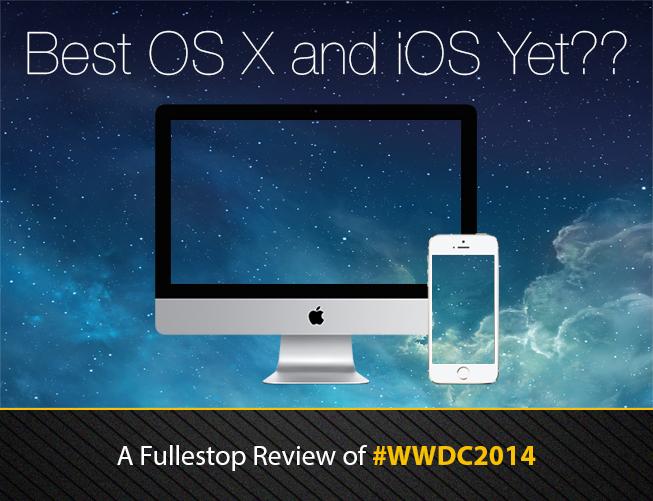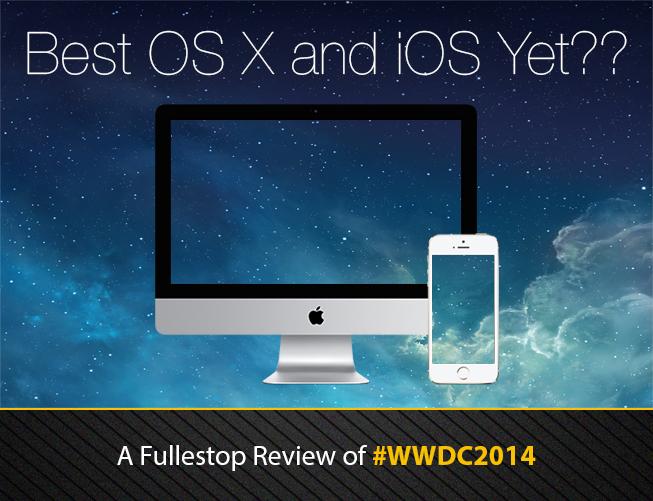 It started the usual way, with a video that described how Apple touches human life with it premium and top of the class products. The video glimpsed the way apps from the App Store are helping people in so many ways which makes "Leading Life" easy for the less fortunate. Did you know there is an app that lets the physically handicapped people control the bionic parts (Hands & Limbs) with their iPhone or iPad? Or there is an app that helps blind people to make music through an iPhone or iPad.
Apple continued their efforts in making great software for their top notch hardware and next in line are OS X 10.10 Yosemite and iOS 8. OS X Yosemite takes the baton from the ever popular OS X Mavericks which outscored its competitor Microsoft's Window 8 in terms of software adoption rates by a huge margin. The new release "Yosemite" will stretch the lead further according to the industry experts. The coveted operating system comes with a clean translucent design which most experts see as an inspiration from iOS 7's flat and translucent design. This lends a modern look to the operating system with the app icons boasting a flat design, the dock and the windows with fine edged corners and a completely overhauled font system to better the overall readability. Taking a cue from iOS 7, OS X Yosemite changes the color temperature of the windows according to the background. The notifications centre has a major overhaul with 3rd party app widgets and the ability to interact with the notification then and there. The reach of the search tool "Spot Light" has been increased and now it will cater the web results for your queries.
Yosemite offer "drop box" like function with its iCloud Drive repository. This will integrate all files associated with a particular account into a drive and users can browse all their files at one place. It will sync all the files in the iCloud with all the apple devices running on that particular apple id. At least once in your life you all would have came across an issue with the size of the attachment you are trying to email but the mail server refuses your email due to the restrictions of the size. Well, now Apple takes care of it with its new feature called "Mail Drop" in the apple's mail app with OS X. Users can now attach the file of size up to 5 GB with their emails from Mail Drop.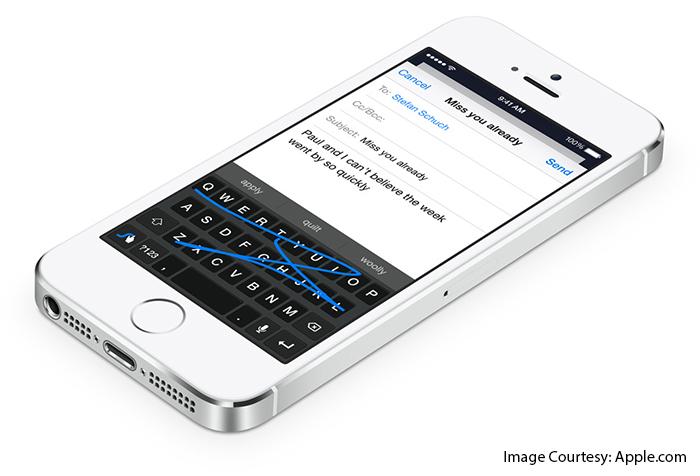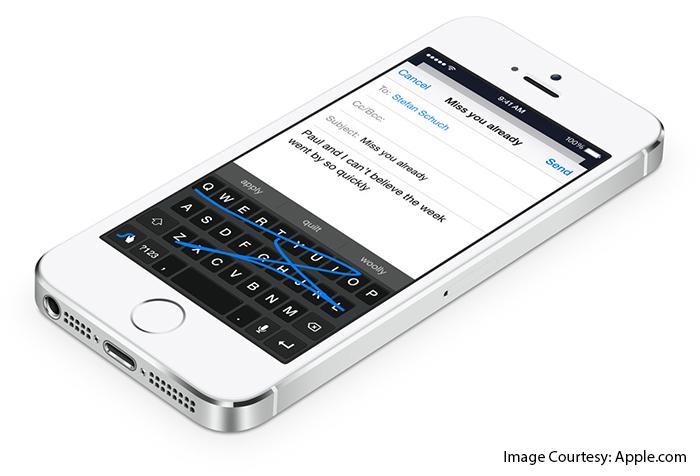 "Continuity" – OS X Yosemite is based on this theme. Apple wants people never to lose track of what they were doing on an apple device when suddenly switch to another apple device for any reason. Keeping the same in mind OS X Yosemite will interact with all your apple devices such as the iPhone, the iPad and the iPod through its Air Drop functionality if they are in close proximity such as other room or your dining hall. So for instance you were composing an email on your iPhone and for any reason you had to look at your Mac, now the Mac will prompt you in the dock that your were writing an email. With the help of this new functionality, your incomplete email will be duplicated on your Mac and you can continue composing it, they have made it that easy. You can even attend/make a call or text from your from Mac and you need not to go to your iPhone for this. Yosemite now talks with your other apple devices so that you never have to lose track of what you were doing. You can even connect to your iPhone's hot-spot without even touching your phone.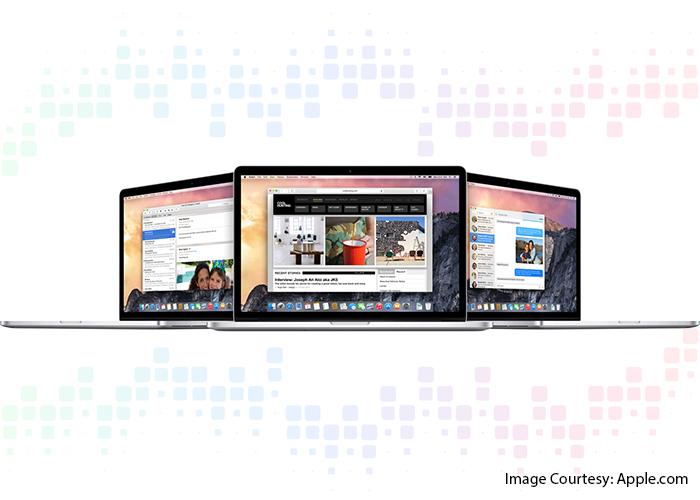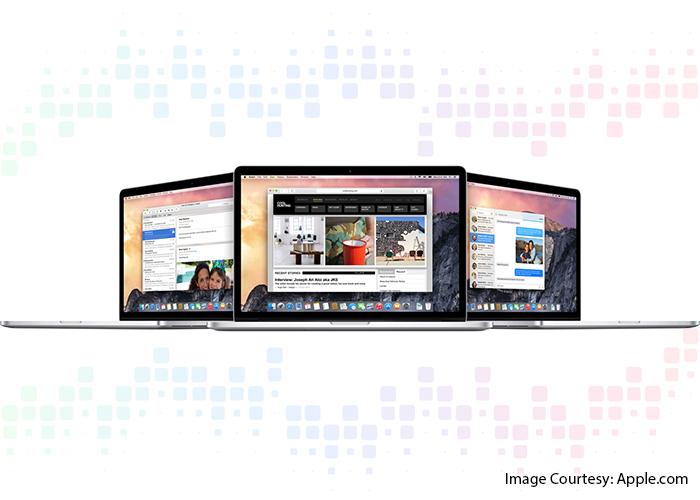 Over all OX X Yosemite is a great refresh from Mavericks much like iOS 7 from the earlier versions of the iOS. The seamless integration with different devices is by far the biggest feature of this year's OS X which makes it beneficial to the users to interact with the Apple Ecosystem. OS X Yosemite will be available for the developers starting June 2nd 2014 and the final public release will be available this fall.
Much like the OS X, iOS 8 also made quite a buzz in the speculation market before its release. It was released at #WWDC2014 yesterday and it came with a host of new features and functionalities such as a Health Kit App, Voice Messages in iMessage, Interactive Notifications, WiFi Calling etc. This was not as big an update like that of iOS 7 but it had some notable changes to the current iOS. Apple extended the "Spot Light" search in the iOS to a whole new level; it can now give users ideas pulled from the web for their query through the Spot Light Suggestions. It will provide Wikipedia results, famous locations near you, music suggestions and the movies playing in a theatre near you.
Currently it seems as if it is a clear shot at Google's search engine, Apple announces "Hey Siri". The updated Siri will analyze and automatically identify songs just like "Shazam" and it also enables to buy that particular song on the iTunes store. You just have to summon it by saying "Hey Siri" and say it in 22 different languages.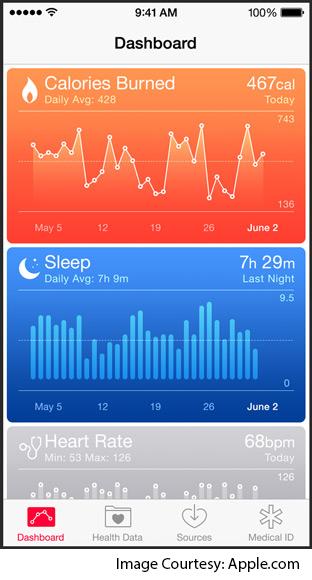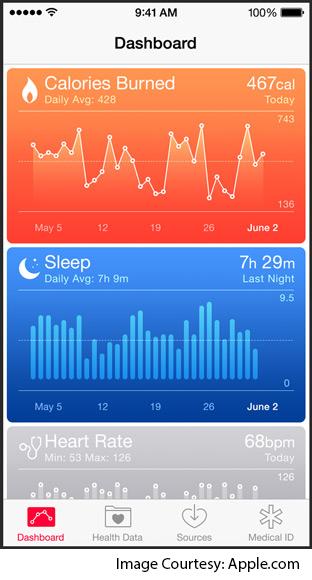 Apple has officially announced that it will ship "Health Kit" with iOS 8 this fall. This embarks a huge entry for the tech giant in the medical industry. The Health Kit app will use the data from 3rd party devices such as "Nike Fuel Band" to take a note of your vitals. The app will also take advantage of the current M7 co-processor of the iPhone 5S to acquire your health data. The app will gauge a host of health reports ranging from your blood pressure to the spike in your diabetes level. All the numbers will be crunched in a database and a historical report will be created by the app. The real-time data gathered by the device will help doctors and medical help to reach you fast in times of emergency. The app will automatically notify a doctor in case your vitals fall below the average data. Apple also makes sure that even if the app collects your data but it your privacy is not at stake. The passbook like app will prove to be beneficial in case of emergencies. Apple has tied up with several hospitals for Health Kit support.
Apple considers iOS 8 as its "Biggest iOS Release Ever" but only time will tell if it were that. As of now the prospects look good but industry experts also feel that it will take Apple some doing to match up feature bouquet of the Android OS.
This was our Fullestop Review of the #WWDC2104 and Apple's offering to the people.