Managed IT Solutions
IT systems should be simple and they should work. As IT systems have become more complex, the work has become more time consuming and expensive. This is where Fullestop can help you, by offering its tailor-made managed IT Solutions.

We are accredited by Microsoft, and are a Microsoft Gold Competency Partner.

Our managed IT solutions can save you up to 30% on your operational IT costs and can reduce resource requirements by 50%. Fullestop offers you a range of operational management services that help you create and manage a better IT infrastructure, both traditional and virtual.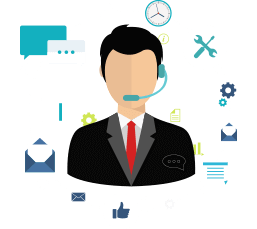 Our IT Managed Service offers
We offer IT Support, Managed IT services and IT Outsourcing to clients with or without an in-house IT support function. Fullestop supports a wide range of IT technologies from leading vendors including Microsoft, Oracle, IBM, HP and VMware. Some of the services we deliver are:
Fully Managed or a Co-Managed partnership
Both covered with our Intelligent Monitoring process
Management of security, availability, patch updates, data backups and recovery
Bespoke Service Level Agreement for 24x7x365
Network infrastructure management and security
Virtualisation planning and management
Desktop & mobile workforce hardware & software support
Server and data storage management
Data backup and disaster recovery
Industry-standard software application support
Internet connectivity, remote access and managed firewalls
Cloud computing and server hosting
IT and software asset management
Project management and consultancy
Software development and office automation
Website and e-commerce development
Our IT Managed Services enable you to
Hiring our managed IT services ensures you focus on your business and leave everything else on us. Our packages are tailor-made to meet your specific needs & budget. Fullestop managed IT services can be delivered 24 hours a day, and 365 days a year.
Reduce operational costs and increase service efficiency of your business
Reduce business risks and complexity, making your IT budget more stable and predictable
Prevent your business from sudden and expensive system downtime
Focus on your core business and deliver better services to your customers
Rest assured that the IT management of your services is in expert hands
Why Fullestop – Because we deliver
Innovative Ideas
We have a track record of working with several Fortune-500 companies, together with many small, medium & large scaled organizations. Our experience enables us to bring right approach for your needs.
Latest Technologies
Our IT experts use latest technologies and tried & tested methods to ensure your business operates the way you want it to.
Great Network
We have partnership with credible software and hardware vendors to meet your IT needs.
Successful Projects

We improve the efficiency of your business to make it business more successful.
Uninterrupted Support

Our team remains in your touch round-the-clock and answers all your questions and find solutions for any issue.
Our Clients Say
Alert Someone (IPhone App )
"I hired Fullestop to construct a new iPhone app. The app was completed on the date that was originally given. The graphics design was fantastic. The team was very knowledgable of Apple regulations and sought to find solutions when problems arose. To say the least, I am very pleased with their work. I will absolutely have future business for them. "
Hello Baby
"We have been very pleased with the work delivered to Fullestop. The project was delivered to specification and the team
were very pleasant to work with. "
Direct Coins
"Overall a great result and very happy with our custom website. We made alot of changes which extended the process and thank the team for their patience. We will use Fullestop on our next project."
Haize Fitness (Android App)
"Great job! I will gladly hire FulleStop again for future projects. They were very competent, professional and attentive in their manner. One of the best levels of communications i've had with an Elance developer. Thank you and keep up the good work!"
See What's New in IT Services
Enterprise Application Integration (EAI) solutions were able to fill the gap between various computer programs implemented by the organization and help the employees in managing the data via a simple interface.The major goal of this software integration is to effectively use the data which is generated by various departments in the organizations.Some of these major EAI apps are:• CRM (Customer...
It is said, "Sometimes miracles come in pairs," and exactly same happened in the unparalleled and unconventional land of technology. 2017 is marked as a year of success when the digital twin technology again ramped up after 15 years of hard work and dedication. Blown a new life by the Internet of things, this technology has now really become cost-effective to implement. The technology has...
From quite some years international market research has been increasing in volume and has become important to business than ever before. This growth has been possible due to the development in the later part of the 20th century and in the beginning of the 21st century. Thanks to greater freedom, international trade opportunities, global investments and associated technology that everything is now...